|en Empowering Humans at the Age of Artificial Intelligence| |fr Donner du pouvoir aux humains à l'ère de l'intelligence artificielle| |de Aufklärung im Zeitalter der Künstlichen Intelligenz|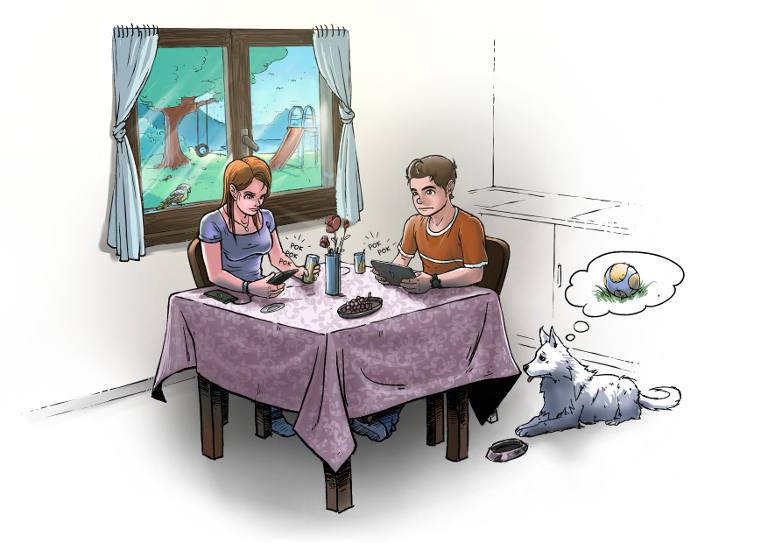 |en The Challenge| |fr Le défi| |de Die Herausforderung|
|en Digital products that aim at trapping user attention and creating addiction lead to personal impoverishment.| |fr Les produits numériques visent parfois à monopoliser l'attention des utilisateurs et à créer des addictions. Dans ces cas, ils entraînent un appauvrissement personnel.| |de Digitale Produkte, die ausgelegt sind alle Aufmerksamkeit zu fesseln und Abhängigkeit zu erzeugen, führen zur persönlichen Verarmung.|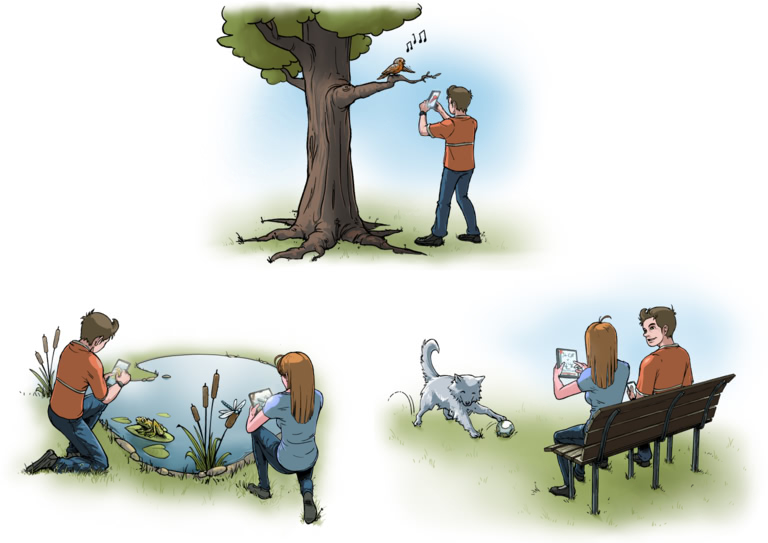 |en Our Vision| |fr Notre vision| |de Unsere Vision|
|en A world in which autonomous citizens enjoy leveraging digital technology to express their creativity and strengthen their independence.| |fr Nous imaginons un monde dans lequel les citoyens sont autonomes, et tirent parti des technologies du numérique pour exprimer leur créativité et développer leur indépendance.| |de Eine Welt in der mündige Bürger mit Vergnügen digitale Technik nutzen, um ihre Kreativität auszuleben und ihre Eigenständigkeit zu fördern.|
|en Our mission| |fr Notre but| |de Unsere Mission|
|en At Enlightware, we pursue the mission to foster | |fr Notre but est de favoriser | |de Mit Enlightware, verfolgen wir die Mission | |en autonomy, creativity| |fr l'autonomie, la créativité| |de Autonomie, Kreativität| |en and | |fr et | |de und die | |en collaboration skills| |fr les compétences de collaboration| |de Fähigkeit zur Zusammenarbeit| |en of each individual through | |fr de chaque individu au moyen de | |de jedes einzelnen mit Hilfe von | |en digital products| |fr produits numériques| |de digitalen Produkten| |en . For more information, read our | |fr . Pour plus d'informations, lisez la | |de zu fördern. Weitere Informationen finden Sie in der | |en social impact description| |fr description de notre impact social| |de Beschreibung unseres sozialen Vorhabens| |en .| |fr (anglais).| |de (englisch).|
|en Our product| |fr Notre produit| |de Unser Produkt|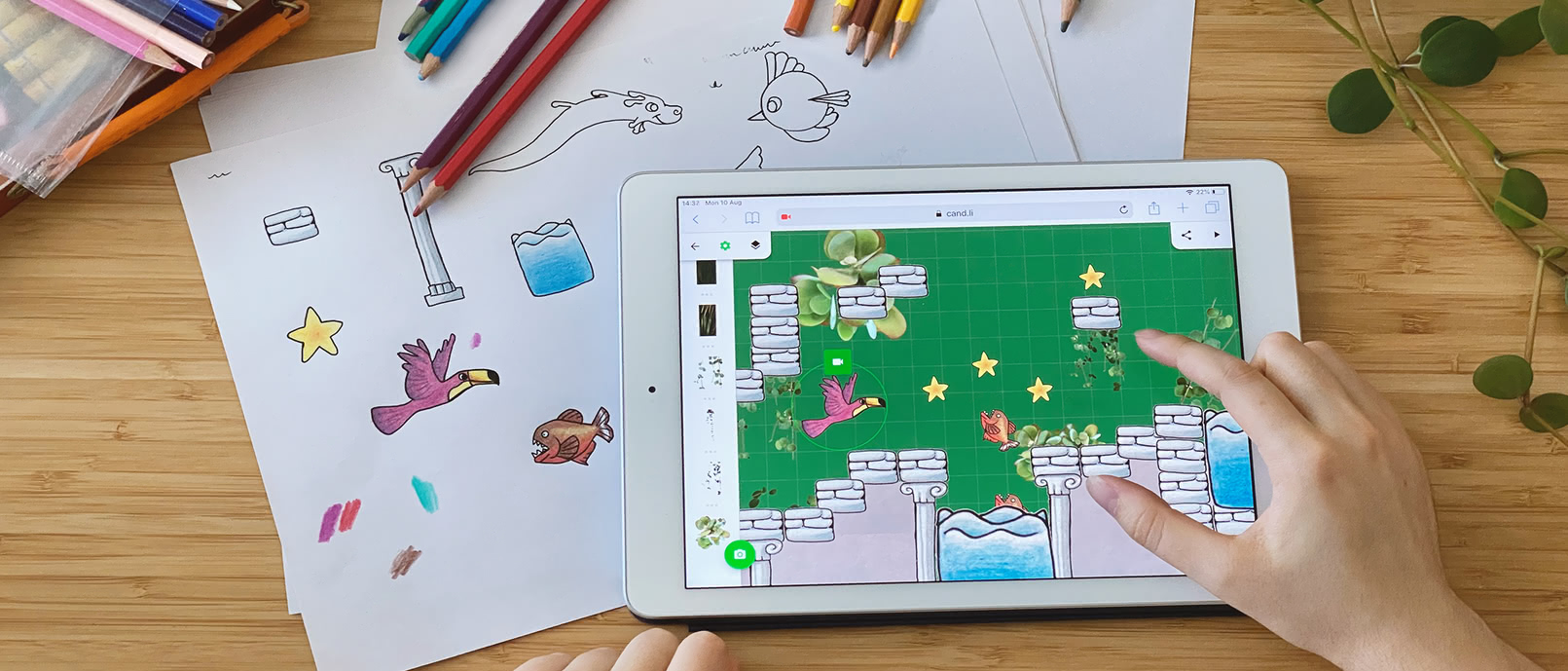 Candli |en , an app that enables anyone to create their own video games.| |fr , une application qui permet à chacun de créer ses propres jeux vidéo.| |de , eine App mit der Sie eigene Videospiele erstellen können.|
|en Try Candli now!| |fr Essayez Candli maintenant !| |de Probieren Sie Candli sofort aus!|
|en Candli combines traditional art creation with visual programming in a unique way. With Candli, a person with no prior training can scan their own drawings and pictures, and with a handful of visual rules, assemble them into a fully-functional video game. Then, in one click, they can share it online with their friends. Candli is heavily inspired by research conducted by Stéphane Magnenat and colleagues at | |fr Candli combine la création artistique traditionnelle avec la programmation visuelle d'une manière unique. Avec Candli, une personne sans formation préalable peut scanner ses propres dessins et images, et avec une poignée de règles visuelles, les assembler en un jeu vidéo pleinement fonctionnel. Puis, en un clic, elle peut le partager en ligne avec ses amis. Candli est fortement basé sur la recherche effectuée par Stéphane Magnenat et collègues au | |de Candli verbindet auf einzigartige Weise traditionelle Kunstformen mit visueller Programmierung. Dabei können Benutzer eigene Zeichnungen und Bilder fotographieren oder hochladen und diese mit einer Handvoll visueller Regeln leicht zu einem voll funktionsfähigen Videospiel zusammensetzen. Mit einem Klick kann dieses dann online mit Freunden geteilt werden. Candli basiert auf Forschung von Stéphane Magnenat und Kollegen, die an der | |en ETH Game Technology Center| |fr Game Technology Center de l'EPF Zürich| |de ETH Game Technology Center| |en .| |fr .| |de durchgeführt wurde.|
|en Stay informed| |fr En savoir plus| |de Auf dem Laufenden bleiben|
|en We are currently in the bootstrap phase. If you want to know more about our future projects and products, please enter your email below.| |fr Nous sommes actuellement en phase de démarrage. Si vous voulez en savoir plus sur nos futurs projets et produits, veuillez entrer votre adresse électronique ci-dessous.| |de Wir sind noch in der Aufbauphase. Falls wir Sie auf dem Laufenden halten dürfen über unsere künftigen Projekte und Produkte, geben Sie bitte hier ihre E-Mail Adresse ein.|
|en Your email will not be disclosed to third-parties, excepted if required by law. You can modify or delete your information at any time by | |fr Votre adresse ne sera pas divulguée à des tiers, sauf si requis par la loi. Vous pouvez modifier ou supprimer vos informations à tout moment en nous | |de Ihre E-Mail Adresse wird nicht an Dritte weitergegeben, ausser das Gesetz verlangt es. Sie können Ihre Angaben jederzeit Ändern oder Löschen lassen indem Sie | |en sending us an email| |fr envoyant un courrier électronique| |de uns eine E-Mail senden| .
|en You can also follow our Twitter feed: | |fr Vous pouvez aussi suivre notre flux Twitter : | |de Sie können auch unserem Twitter-Feed folgen: | @EnlightwareCH.
|en Our open-source contributions| |fr Nos contributions open-source| |de Unsere Open-Source-Beiträge|
|en We actively contribute to the community with the following open-source projects:| |fr Nous contribuous activement à la communauté avec les projets open source suivants :| |de Wir tragen mit den folgenden Open-Source-Projekten aktiv zur Gemeinschaft bei:|
|en About Us| |fr Qui sommes nous ?| |de Über uns|
|en Enlightware® is a social enterprise active in the field of computer science and software engineering. As an official spin-off of ETH Zurich (| |fr Enlightware® est une entreprise sociale active dans le domaine de l'informatique et du génie logiciel. En tant que spin-off officielle de l'ETH de Zurich (| |de Enlightware® ist ein soziales Unternehmen im Bereich Informatik und Softwareentwicklung. Als ein Spin-off der ETH Zürich (| |en Game Technology Center| |en and | |fr et | |de und | |en Autonomous Systems Lab| |en ), it transfers academic experience and knowledge into products. At Enlightware, we consider profit as a constraint rather than a goal, and aim at developing a sustainable business with a positive impact on the society. You can contact us at | |fr ), elle transpose l'expérience et les connaissances académiques en produits. Chez Enlightware, nous considérons le profit comme une contrainte plutôt que comme un objectif et visons à développer une activité durable ayant un impact positif sur la société. Vous pouvez nous contacter à | |de ), nutzt es Wissenschaftliche Erfahrung für die Entwicklung von Produkten. Bei Enlightware, betrachten wir Profit mehr als eine Notwendigkeit als ein Ziel und zielen auf eine nachhaltiges Wirtschaften mit einer positiven Wirkung für die Gesellschaft. Sie können uns erreichen unter dieser E-Mail Adresse | info@enlightware.ch | .|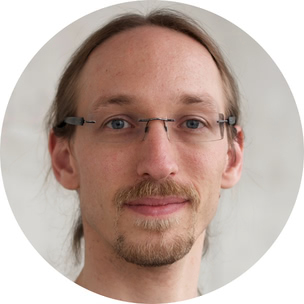 Stéphane Magnenat
|en CEO, founder, software engineer| |fr PDG, fondateur, ingénieur| |de CEO, Gründer, Softwareentwickler|
|en Website| |fr site| |de Webseite|
–
Twitter
Dr. Stéphane Magnenat |en is a senior researcher at ETH Zürich. Previously, he was Associate Research Scientist at Disney Research Zürich. He obtained his PhD from EPFL. His work covers the fields of robotics and computer science. He is the creator of the | |fr est chercheur à l'ETH de Zurich. Auparavant, il était chercheur associé à Disney Research Zürich. Il a obtenu son doctorat de l'EPFL. Ses travaux couvrent les domaines de la robotique et de l'informatique. Il est le créateur du système | |de ist Seniorwissenschaftler an der ETH Zürich. Vorher war er assoziierter Wissenschaftler bei Disney Research Zürich. Seinen Doktortitel erhielt er von der EPFL. Er forscht in den Bereichen Robotic und Informatik. Er ist Erfinder von | Aseba |en framework that is the software core of the | |fr qui est le cœur logiciel du | |de , der Kern-Software des | |en Thymio robot| |fr robot Thymio| |de Thymio Roboters| |en , and the lead developer of its visual programming environment. Moreover, his work in 3-D mapping is used by the Google ARCore and NASA for planetary reconstruction.| |fr , et le développeur en chef de son environnement de programmation visuel. De plus, ses travaux sur la cartographie 3D sont utilisés par Google ARCore et la NASA pour la reconstruction planétaire.| |de , und Chefentwickler der zugehörigen visuellen Programmierumgebung. Seine Arbeit im Bereich 3-D Mapping wird von Google ARCore und der NASA zur Planetenrekonstruktion genutzt.|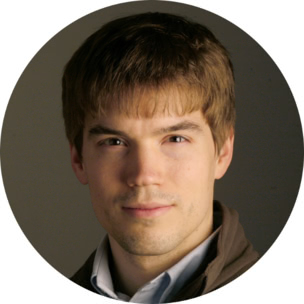 Hannes Sommer
|en founder, software engineer| |fr fondateur, ingénieur| |de Gründer, Softwareentwickler|
Google Scholar
|en Dr. Hannes Sommer obtained his PhD in the field of autonomous robotics at ETH Zurich after obtaining a Diploma in mathematics (with physics minor) from Technical University Berlin and also has 20+ years of experience in software development and network + server administration.| |fr Dr Hannes Sommer a obtenu un doctorat dans le domaine de la robotique mobile à l'ETH Zürich. Avant cela, il a obtenu un diplôme en mathématiques (et un mineur en physique) de l'Université technique de Berlin. Il a aussi plus de 20 ans d'expérience dans le développement de logiciels et dans l'administration de réseaux et de serveurs. |de Dr. Hannes Sommer erhielt seinen Dr. Title im Bereich der autonomen Robotik von der ETH Zürich nach seinem Diplomstudium von Mathematik mit Nebenfach Physik an der Technischen Universität Berlin. Er hat auch 20+ Jahre Erfahrung mit Softwareentwicklung und Netzwerk- + Serveradministration.|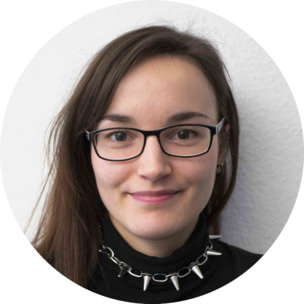 Violaine Fayolle
|en digital artist| |fr infographiste| |de Designerin|
Twitter
|en Violaine Fayolle is a digital artist at ETH Zürich. Previously, she worked as digital artist and Virtual Reality technician at the Geneva University. With a background in graphic and real-time 3-D design, she completed a Master degree in Interactive Technology specialized in Virtual and Augmented Reality in Laval, France. She creates visuals to support research and individual projects that inspire her.| |fr Violaine Fayolle est infographiste à l'ETH de Zürich. Auparavant, elle était artiste et spécialiste Realité Virtuelle à l'Université de Genève. Avec un bagage de designer graphique et une license en conception 3-D temps réel, elle a complété un Master en Technologies Interactives spécialité Réalité Virtuelle et Augmentée à Laval, France. Elle créé des visuels 2D et 3D pour illustrer les projets de recherche et les projets indivuels qui l'inspirent.| |de Violaine Fayolle ist Designerin an der ETH Zürich. Zuvor arbeitete sie als Designerin und Virtual-Reality-Technikerin an der Universität Genf. Mit einem Hintergrund in Grafik- und Echtzeit-3-D-Design absolvierte sie einen Master-Abschluss in Interaktiver Technologie mit Spezialisierung in Virtual und Augmented Reality in Laval, Frankreich. Sie erstellt Bildmaterial zur Unterstützung der Forschung und einzelner Projekte, die sie inspirieren.|
|en Advisory board| |fr Conseil consultatif| |de Beirat|
|en Our network| |fr Notre réseau| |de Unser Netzwerk|
|en Imprint :| |de Impressum :| |fr Impressum :| Enlightware GmbH, Rotbuchstrasse 66, 8037 Zürich, UID: CHE-400.095.273